Choose Success Book
Transform your life from now to WOW!!
Are you feeling disillusioned or stuck?
Do you wonder why you keep attracting similar situations or people?
Would you like to see an improvement in your relationships, financial situation, career/business or health?
Are you ready for a new approach?
If you answered yes to these questions, my book, Choose Success – Ignite the Power Within, is for you. You CAN ignite your inner power which will enable you to choose and attract what you want, your ideal body, relationship or client, by aligning your beliefs, mindsets, thoughts, emotions, and actions.
Mandie Crawford, Founder, Roaring Women and author of Seven Simple Principles and When Every Second Counts has this to say about the Choose Success book:
"I was so excited to see Pat's work of art – Choose Success – Ignite the Power Within available for all to read! In this book are the missing links and practicals that will help people who are ready to choose sucess and not just think about it! This book provides the concrete steps we have all been looking for. I will be making this book recommended reading for all my coaching clients."
There you have it.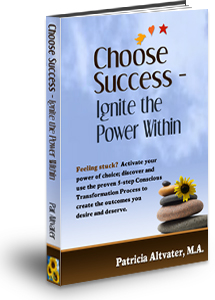 Move beyond struggle!
Choose Success – Ignite the Power Within will show you how to leave struggle behind, transform mindsets such as perfectionism, lack and limitation, and instant gratification to easily manifest your desires using a proven 5-step process.
Peek Inside this book:
Front Cover
Table of Contents
Back Cover (about author, Pat Altvater)
This book will guide you to:

be a co-creator (instead of a victim) so you can achieve your goals easily and quickly

implement strategies and processes that help you gain clarity and attract outcomes you desire

nurture your energy – physical, mental, emotion and spiritual so you have the vitality to transform

move from now to WOW, where you are happily creating the life of your dreams.
Create the outcomes you desire!
If you don't feel like you are creating your life and that the powerful forces of the universe are at work in your life now, Choose Success -Ignite the Power Within will help you understand what's holding you back and provide you with the tools you need to easily manifest your desires.
Everything in your life is your CHOICE! Choose today to Ignite Your Inner Power and create a life of your dreams.
Joani Donovan, Owner, Ultimate Body, Mind & Spirit has this to say about the Choose Success book:
"This book is a must read for anyone who wants to attract different outcomes in their life. Being able to see yourself in the mindset examples will give you awareness of your limiting beliefs. Everything you need to successfully change is in this book. Plus, it's an easy read!"
Purchase Today!
Jan Stringer, Owner, Perfect Customers, and co-author of Attracting Perfect Customers: The Power of Strategic Synchronicity and Bee-ing Attraction: The Entrepreneurs' Guide to Sweet Success has this to say about the Choose Success book:
"This book has the WOW factor and is perfect if you are ready to release struggle and attract everything you want into your life!"